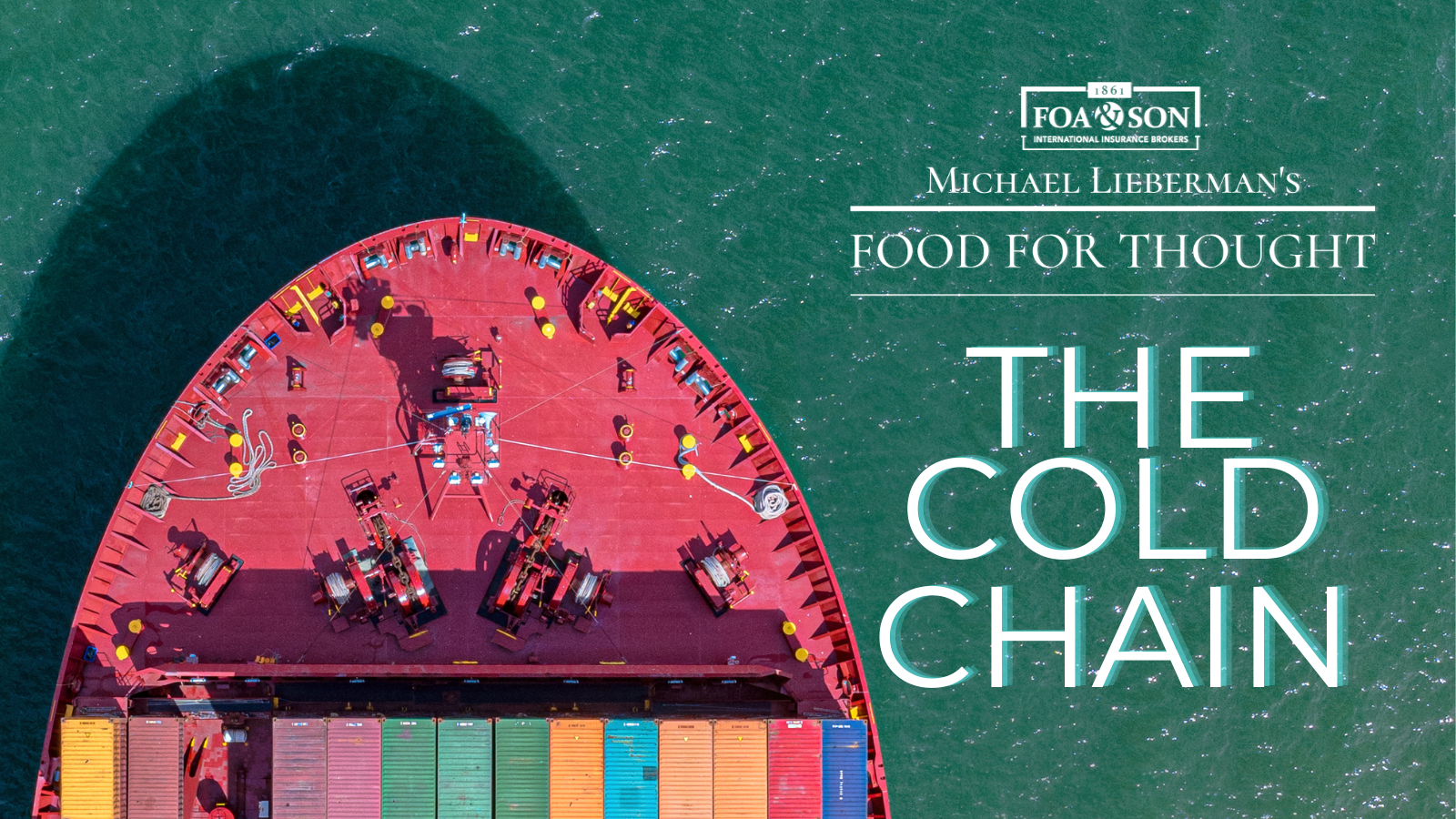 Cold storage has become a hot topic during the pandemic as vaccine manufacturers address the logistics of storing and shipping frozen vials to points of vaccination, but the food industry has long been concerned with the integrity of the "cold chain".
Because of their cold storage needs, all types of perishable products have been hard to insure because underwriters are wary of temperature-sensitive risks. And the current hard insurance market, along with supply chain disruptions attributable to Covid-19, are creating even more challenges for the food industry.
But devices that monitor the conditions of sensitive cargo when it is stored and shipped around the world should make such risks much easier to insure, according to Michael Lieberman, food and beverage practice leader at Foa & Son in New York, during the first episode of "Food for Thought" the first YouTube program dedicated to food industry insurance and risk management.
The episode, titled "The Cold Chain", featured an interview with Ben Hubbard, CEO of Parsyl Inc., a Denver-based technology company whose devices collect data throughout the shipping process to show whether temperature-sensitive products are being safely stored and transported.
Parsyl's temperature-tracking devices have been used in the global health space to monitor distribution of vital vaccines destined for children in emerging markets, and the company recently invested in a Lloyd's of London initiative that will offer "Cold Covers" for Covid-19 vaccine distribution.
Syndicate 1796 was aptly named since 1796 was the year that Dr. Edward Jenner, "the father of immunology" administered the world's first vaccine, which was used to prevent Smallpox, Hubbard explained.
"That's our inspiration, and we're going to put this to work for Covid," he said.
In addition to insuring vaccine distribution, Syndicate 1796's new parametric policy leveraging Parsyl's data-collection technology will soon be offered to the food industry to provide immediate coverage in case of loss due to spoilage. If a sensor shows a temperature drop sufficient to spoil a product, coverage will kick in, and the insured will be reimbursed for the loss immediately. The insurance program also will provide coverage for spoilage caused by shipping delays, a peril that has historically been excluded from marine cargo policies, according to Hubbard.
During the "Food for Thought" episode, Hubbard demonstrated how Parsyl's "Track Tab" temperature sensor worked using a shipment of canned crabmeat as an example. The device tracked the product's temperature since leaving Harbor Seafood in New York until it reached Hubbard's Colorado office.
Data from the device, which is easily and quickly uploaded into either a smartphone or computer, can detect "temperature abuse" within the food supply chain to determine where in the process a breakdown may have occurred, thereby identifying which party can be held responsible. Such identification is important to establish negligence, according to Lieberman, since the food supply chain is controlled by third-party carriers, not the food suppliers themselves. Time-temperature data also can be used to provide evidence that a food safety exposure did not occur, he added.
"If you can show underwriters that you are investing in data collection and loss control, you can get better terms and pricing," Lieberman noted.
Besides the new Lloyd's syndicate, Parsyl has partnered with several leading marine cargo insurers to provide deductible buyback and all-risk stock throughput policies, according to Hubbard.