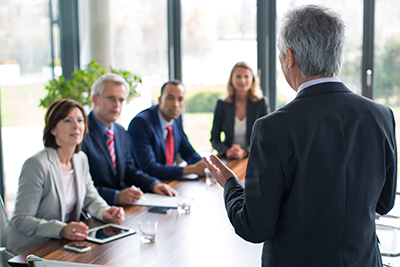 When you accept an invitation to join a private organization's board of directors, you might not realize that your activities as a current or former member could include fending off a lawsuit. Before you accept that invitation, ask whether the board is protected by Directors and Officers Liability Insurance, known more succinctly as D&O.
Whether paid or uncompensated for their role on a board, directors and officers often are people of means and thus may be viewed as attractive targets in a liability suit. This is especially true when the board on which they serve oversees operations of a small or medium-sized company or a nonprofit organization with limited holdings. Litigators tend to go after the money, and oftentimes they'll seek it in the assets of a defendant organization's directors and officers.
D&O Liability Insurance protects not only board members but also their families and estates.
In a July 2021 Forbes article, members of the publishing company's Nonprofit Council propose 15 questions for prospective board members to ask before accepting an invitation. All the questions are excellent, including this one from Kristen Jaarda of the American Council on Gift Annuities: "Do they have a directors' and officers' liability insurance policy?
"Maybe it's the attorney in me, but I wouldn't join a board that doesn't back me if I'm going to be giving my all to serve the organization's interests," Jaarda says. "Board members need to understand that they are fiduciaries, and failing to ask this question may put them at risk, even when acting with the best of intentions."
Prospective board members owe it to themselves to ask about D&O Insurance. And private companies and nonprofits owe it to their board members to provide it.
Private Company D&O and Legal Funds 
D&O Insurance provides board members coverage for legal defense if they're sued for an alleged wrongful act. Who might be the initiators of such claims?
Customers, clients and consumer groups: Allegations of discrimination, harassment, contract violation and misrepresentation are among the most common in such claims.
Employees: Common allegations in employment practices disputes include discrimination, harassment and wrongful termination.
Government entities: Board members may be deemed negligent for a company's failure to comply with regulations or laws.
Shareholders or lenders: Alleged misrepresentation or insufficient disclosure of financial reporting, breach of duty of care, breach duty of loyalty, and breach of duty of obedience are cited in claims from these groups.
Mergers and acquisitions also are a frequent trigger of suits against boards of private organizations, with litigants ranging from disgruntled shareholders to creditors and vendors.
As insurance carrier Chubb explains in its "Director Liability Loss Prevention in Mergers and Acquisitions" whitepaper: "The directors of a company considering a proposed takeover must carefully determine whether an acquisition of the company and the terms of the acquisition are in the best interests of the company and its shareholders and, if so, how to move forward with it. Even under the best of circumstances, that will likely require far more time and effort from the directors than they expected. Unfortunately, directors are routinely rewarded for this huge commitment by being sued. Shareholders typically allege the directors acted improperly in investigating, negotiating, approving, rejecting, or disclosing the acquisition transaction, regardless of how thoroughly and prudently the directors acted."
D&O policies that include the insurer's "duty to defend" obligate the insurance company to control the claims process, including the selection of counsel and the payment of legal bills. Even policies that exclude duty to defend typically require the insurer to reimburse the insured for legal expenses in defending a claim.
Cyber Liability and D&O 
Given the interconnectedness of businesses and individuals in combination with the stratospheric escalation in cybercrime since the onset of the COVID-19 pandemic, it was inevitable that cyber claims would increasingly affect directors and officers. Board oversight responsibilities include taking the necessary steps to protect their organization's digital assets, opening the door to D&O claims on top of cyber liability claims.
In response, insurance carriers have been attempting to write exclusions into D&O policies, to eliminate claims stemming from cyber breaches. Informed, alert agents and brokers work to stop them. Cybersecurity is more important than ever. So is keeping coverage of cyber liability in your Directors and Officers Insurance policy.
Market Outlook for D&O 
Like other forms of Property and Casualty (P&C) Insurance, Directors and Officers coverage has presented insurance consumers and brokers with a hard market. The frequency of claims — particularly in employment practices cases arising from alleged harassment, discrimination or wrongful firing — and severity of verdicts has made D&O Insurance more difficult and expensive to obtain.
But the news isn't entirely bad.
In December 2021, Alera Group published the Property and Casualty 2022 Market Outlook. Here's what we had to say in the whitepaper's section on Directors and Officers Liability Insurance:
"The D&O market is showing signs of a return to a more predictable pricing and underwriting environment after 11 consecutive quarters of double- and triple-digit price increases.
"Rates will continue to rise for most organizations. However, extreme pricing volatility, the imposition of restrictive coverage terms, forced higher retentions and the unavailability of needed excess limits are beginning to lessen.
"Buyers will continue to mitigate higher pricing by narrowing coverages, reducing excess limits and absorbing increased deductibles. However, rate hikes narrowed. In the third quarter 2021, price increases for primary policies with the same limit and deductible renewed at an average rate increase of 7.3%, according to Aon's quarterly pricing index.
"Availability and capacity will be conservatively offered by the established market. Improved D&O financial performance and competition by new carriers will contribute to lower pricing and greater availability. To secure desired excess limits, it may be necessary to stack layers from several insurers.
"Underwriting scrutiny will remain a thorough and extensive process. The increase in lawsuits related to the COVID-19 pandemic, sexual harassment, cyber security, employment practices liability and social inflation require underwriters to maintain firm underwriting and pricing disciplines for both primary and excess layers."
At the time of the Market Outlook's publication, we classified rates, availability and capacity as "unfavorable but trending positively," forecasting rates increases of more than 13.3%.
We've seen no reason to revise that forecast in the months since. Similarly, underwriting scrutiny remains strict.
What Your Organization Can Do 
In a 2020 blog post, the organization Sustainability Education 4 Nonprofits outlined "The Personal Liability Risks of Nonprofit Board Service." The post includes this planning tip:
"Defending even a frivolous lawsuit will require significant upfront costs. D&O insurance provides this crucial protection. And insurance brokers are often a great resource to help you determine the right level of coverage, navigate tricky situations before a lawsuit occurs, and provide advice about best practices that can mitigate risk."
We couldn't have said it better. Working with a qualified insurance agent or broker — one who understands your organization and industry, and who recognizes your risks and how to reduce the cost of managing them — is essential to protecting your organization and your board.
A qualified insurance professional will work with you to present and informative, thoroughly documented application to insurance underwriters, highlighting your organization's risk management program and positive claims history to make you more attractive in the P&C marketplace. A knowledgeable, experienced agent or broker also can recognize opportunities to negotiate more favorable language in your policy and eliminate potential gaps in coverage.
For a deeper dive into strategies for navigating P&C market conditions in general and Directors and Officers Insurance in particular, read Alera Group's Property and Casualty 2022 Market Outlook. In the Outlook, you'll also find valuable information on factors driving the current P&C market, along with analysis categorized by industry and lines of coverage.
To obtain the whitepaper, click on the link below.
About the Author
Dan R. Sanderson, CIC, CRM, CAWC 
Partner
TriSure, an Alera Group Company