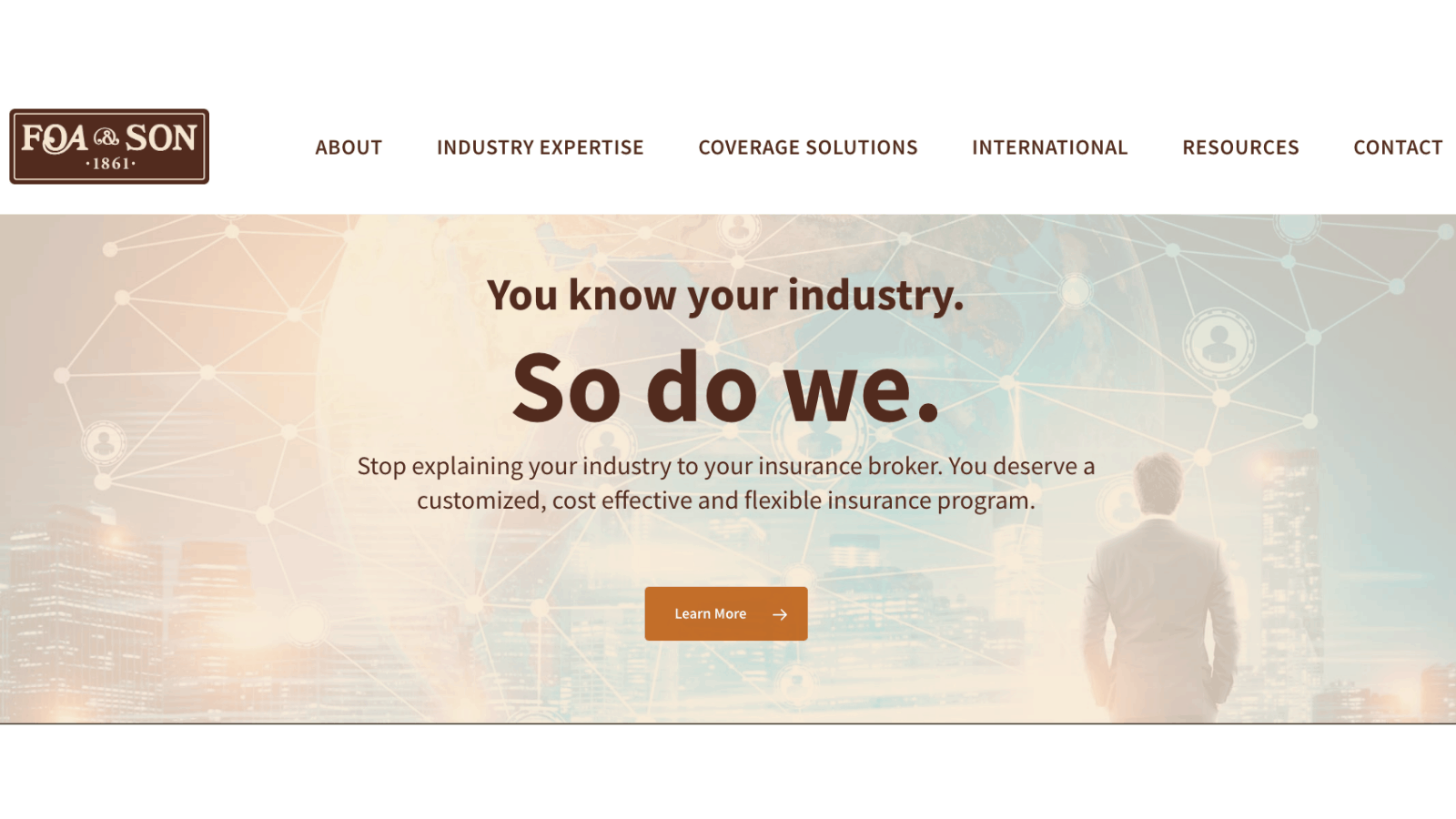 Foa & Son Corp. has launched a new website to serve clients and prospects who want to learn more about the firm and their unique abilities. Highlights include their specialty niches and international reach and expertise.
Visitors to the site will be able to connect with experts in their particular type of business who are deeply knowledgeable about coverage solutions. The site also offers a rich library of articles that provide inside information on how to best protect businesses and assets.
"Our new website streamlines access to our experts and allows visitors to learn more about trending topics in insurance that can help them get the best coverages for their business" says Justin Foa, CEO.
Additional resources include the ability to quickly and easily notify the firm of a claim, and the Risk Management Center, which allows clients to access a unique suite of tools designed to empower risk prevention efforts.
More information can be found at: www.foason.com.
About Foa & Son:
With over 150 years of history and the ability to design cutting edge insurance products, Foa & Son serves a sophisticated clientele looking to protect their assets. Foa & Son's real-time market knowledge allows them to design sophisticated, comprehensive and cost effective insurance solutions for their clients. Our offices, based in New York, work with insurance companies all over the world to find unique opportunities to help clients manage risk.
Foa & Son's Commercial Insurance Division, Private Insurance Advisory Service, Corporate Benefits Practice, Multinational Services Division, and Blue Water Hull Division provide insurance solutions to some of the most prestigious firms in the United States and around the world.
In-depth knowledge and experience extends to all principal sectors, including international insurance, food distribution, real estate, hospitality, manufacturers, financial and professional service firms, not-for-profits, municipalities, automotive, tech firms and ship owners.
According to Chairman Conrad Foa, "Our clients are our principals, and we take that responsibility very, very seriously. We are committed to being trusted advisors to our clients. Our interests remain independent on behalf of our clients."