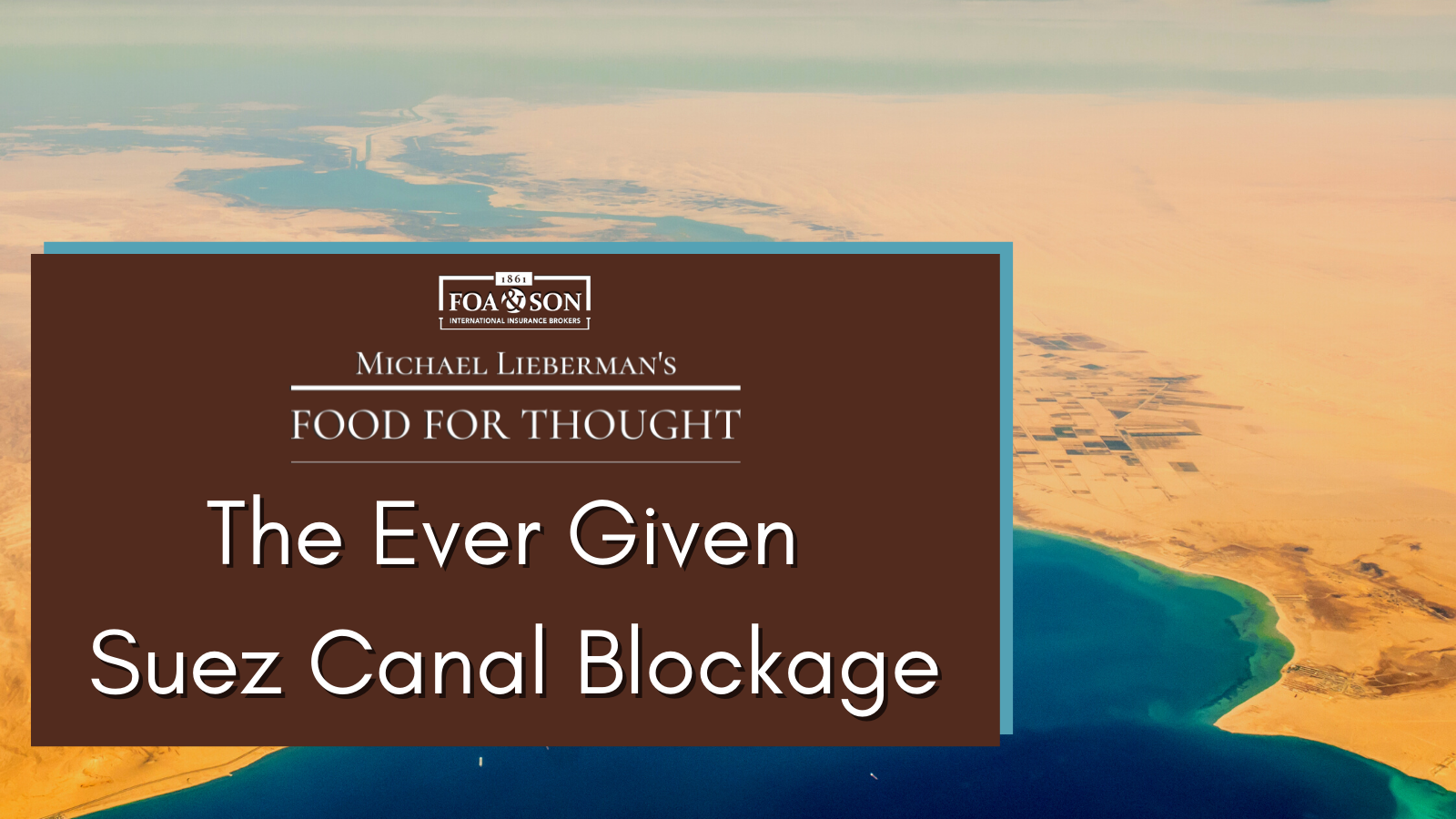 "It's fifty ships a day that pass through the canal," said Don Murnane of Freehill Hogan & Mahar LLP during a recent episode of FOOD FOR THOUGHT.
"We're talking about a ship that's got 20,000 total equivalent units," he continued. "Everything that you see in the supermarket, everything that you see in Walmart, anywhere in Europe… is in those boxes. And the estimates are that's three-quarters of a billion dollars in value that's on that ship as she transits."
Mr. Murnane was appearing alongside John Karpousis, also of Freehill Hogan & Mahar, on the eighth episode of Michael Lieberman's monthly webcast. On FOOD FOR THOUGHT, Foa & Son Food and Beverage Practice Leader Lieberman sits down with a guest each month to discuss issues impacting the industry. His conversation with Murnane and Karpousis provided a deep dive into the dramatic Ever Given Suez Canal blockage, with a focus on key insights and takeaways for cargo owners. As partners at a firm with deep roots in maritime law, and with over thirty years of experience in maritime law between them, Murnane and Karpousis were able to supply unique and valuable perspectives on the topic.
As lawyers, the guests were careful to ensure the discussion started with a disclaimer. "Anything that we speak on today is for informational purposes only," Lieberman explained. "It should not be construed as legal advice."
"Most of what we're talking about today, particularly the factual side and the status of the casualty in Egypt is based on news reports," said Murnane. "But we don't have any direct knowledge."
"What we're doing here today is to discuss issues," Karpousis added. "Not give advice." 
Nevertheless, their discussion of issues surrounding the Ever Given situation was insightful and detailed. Lieberman began by inquiring about technical aspects behind the grounding.
"What makes this unique," Murnane answered, "is that this vessel decided to ground in a choke point in one of the world's most significant commercial arteries, and basically stop traffic in both directions." 
He went on to discuss common conditions and factors often involved in groundings, including navigation, passage planning, and weather forecasts. Murnane also showed video taken from the Ever Given's vessel data recorder to demonstrate that the ship's Master may have over-navigated. 
Lieberman then queried his guests on liability related to pilot error, the economic and time-saving incentives that drive cargo owners to choose to pay the steep fees required to pass through the Canal, and the legal implications of delays or damage for cargo owners. 
Following a well-informed overview of risk management for cargo owners, the conversation turned to General Average, an ancient principle of maritime law that essentially establishes that all sea cargo stakeholders (owner, shipper, etc.) evenly share any damage or losses that may occur as a result of voluntary sacrifice of part of the vessel or cargo to save the whole in an emergency.
Cargo owners, and anyone else in the food and beverage industry, will not want to miss this exceptionally in-depth, insightful, and influential episode of FOOD FOR THOUGHT.  
To view the entire discussion, please click here. For updates on future episodes, please be sure to follow our social media accounts on Facebook, Twitter and LinkedIn, and subscribe to our YouTube channel.
To continue the conversation, reach out to Michael Lieberman here.