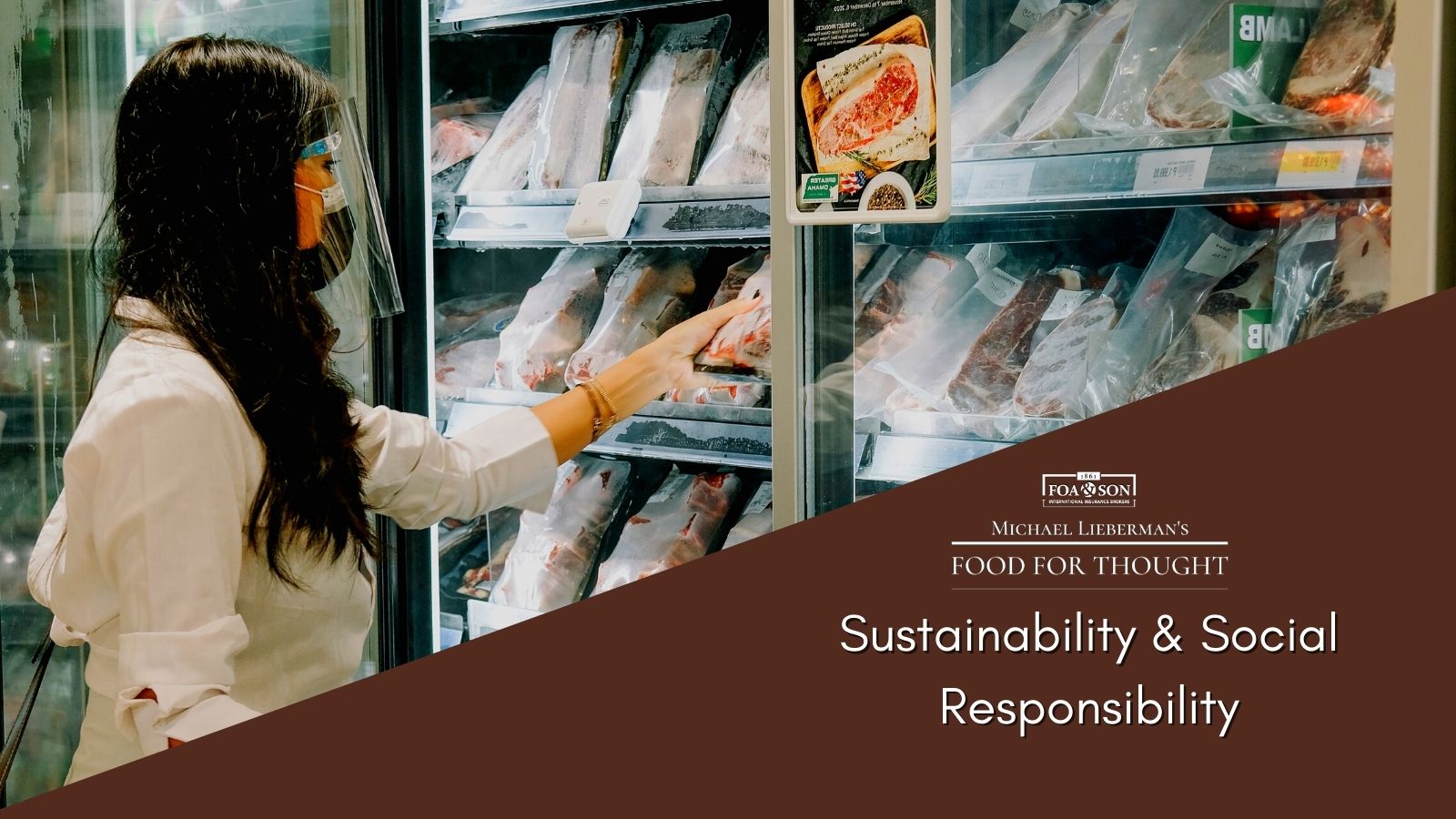 In the ninth episode of FOOD FOR THOUGHT, Foa & Son's Michael Lieberman welcomed seafood industry thought leader and innovator, Richard Stavis for a discussion of sustainability and social responsibility in the seafood industry.
"Sustainability used to be just about whether there was going to be enough fish," Stavis recalled early in their conversation. "Then it expanded to be were the fish harvested in a way that didn't damage the rest of the environment. Now things like social responsibility are even being bundled into sustainability."
"You should have your own value system," Stavis continued. "You should have your own definition of sustainability, and then you should also rely on outside certifications, outside metrics, so that you are in compliance with customer expectations, as well."
Mr. Stavis, CEO of Stavis Consulting, draws his knowledge of harvesting, farming, processing, and product standards from over 35 years of experience in the seafood community functioning in executive, purchasing, sales, and sustainability roles. Over the last decade, his primary focus has been understanding, advocating for, and applying best practices in sustainability, traceability, and responsible labor practices within the seafood supply chain.
This unique and highly relevant background makes Stavis an ideal source of insight for the topic at hand.
To begin, Lieberman queried Stavis on his personal personal arc of awareness related to sustainability. In framing his answer, Stavis described how businesses can strike a balance between personal values and customer expectations. He then reflected on his own upbringing within the industry, and a moment at an awards dinner when he realized that a seafood company can be more than just a link in the supply chain.
"About fifteen years ago or so," Stavis described, "somebody who we knew nominated us for Massachusetts Family Business of the Year. We went to the awards dinner and we got to hear all of the other candidates, and hear their stories. An that was when a lightbulb moment went off. What I learned is that families, companies, people can use the professional life as a platform to do more. That it doesn't just need to be about the commercial aspect about it. It doesn't just need to be the most efficient way of pushing dollars through a business."
From there, Lieberman turned the conversation to risk. "Do you think that companies are looking at social responsibility and sustainability as part of their risk management," Lieberman asked. "Do they look at these topics as tying into risk? Or are they just checking the box?"
"They should," Stavis proclaimed. "And they need to consider this to be part of their risk analysis in terms of business continuity. If you look at your customer base and your client base, if you want to have those customers in six months, in a year, in two years, in five years, you need to be able to anticipate what they're going to be requiring you to provide."
"As they become more sophisticated in their requirements, what they're going to be asking for are things that are going to take you years to develop," he elaborated. "If you wait until your customer says that to you for you to react and to meet those requirements, you're toast! You're not going to be able to do it! So if you're not looking forward, if you're not looking prospectively, if you don't understand that's the direction things are going, then you're not planning for your business to be in business."
As their conversation continued, Lieberman asked for Stavis's thoughts on legal risk and insurance concerns, new tools for traceability and transparency, and the expectation of the end user: the customer in the grocery store who is willing to spend more for a product that meets their standards.
Finally, Lieberman revealed that, in accordance with FOOD FOR THOUGHT tradition, he had surprised Stavis with a package prior to their discussion. In video footage captured in his home, Stavis opened the package to discover some MSC-certified, fair-trade Maine sea scallops provided by Bristol Seafood.
In a further surprise, Peter Handy, President and CEO of Bristol Seafood, appeared in a special video message thanking Stavis for his leadership, work, and friendship.
To view Stavis and Lieberman's entire discussion, click here. For updates on future episodes, please be sure to follow our social media accounts on Facebook, Twitter and LinkedIn, and subscribe to our YouTube channel.
To continue the conversation, reach out to Michael Lieberman here.