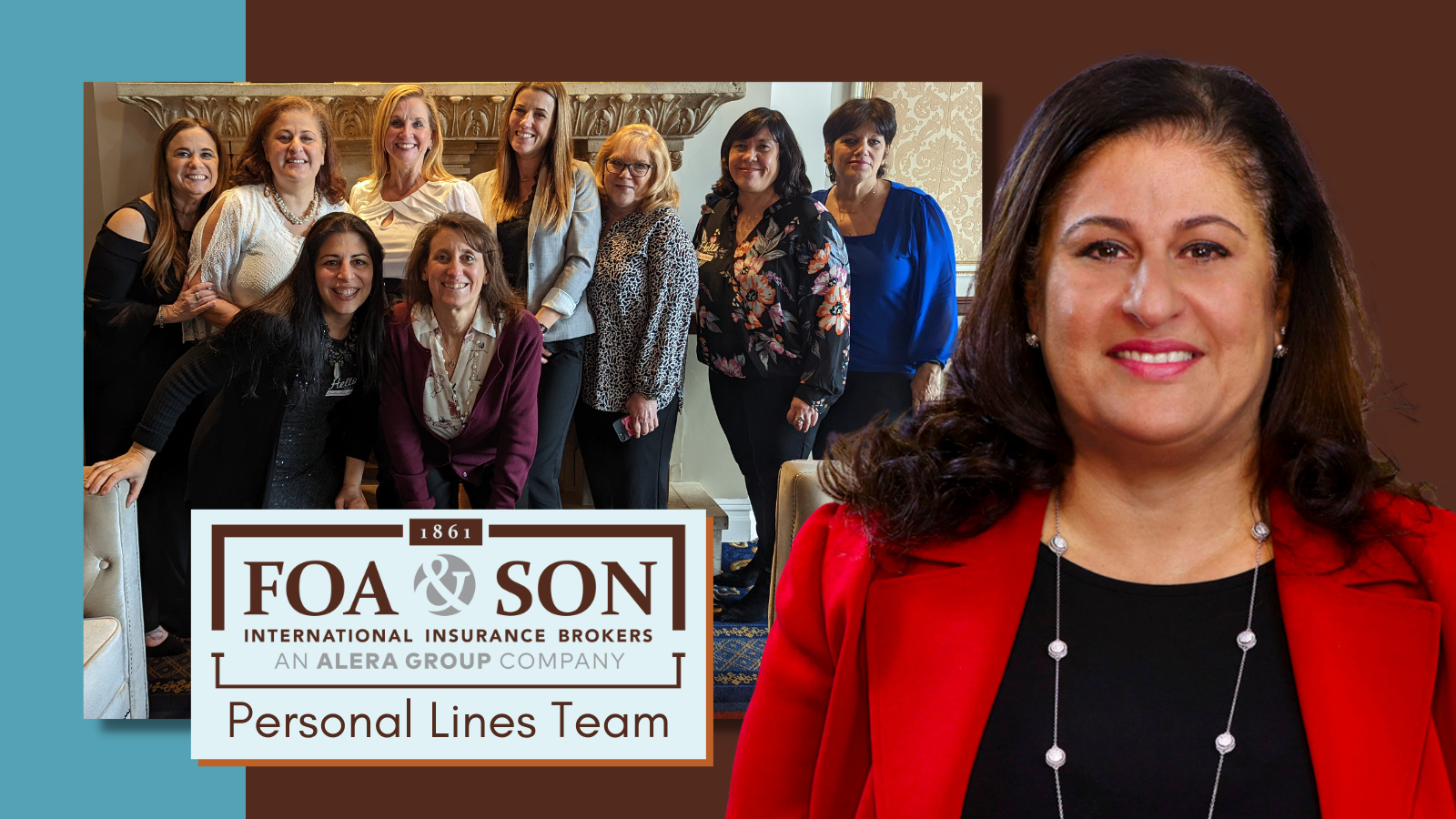 Clients of Foa & Son enjoy access to a team of professionals with many years of service to high-net-worth individuals. The Personal Lines team, led by Senior Vice President Loleeta Hebrank, works with clients to insure their valuable items against major loss.
On a beautiful Monday morning, Loleeta agreed to be interviewed. She talks about her team, what they mean to her and how their experience helps Foa & Son clients enjoy white glove services for all of their insurance needs.
*   *   *
Question: So how has your experience over 25 years, 14 at Foa & Son, allowed the company to hold up its great reputation over 160 years?
Loleeta Hebrank:  My risk management skills and ability to simplify the process of protecting assets, offering benefits, and minimizing liability has certainly contributed to the fantastic reputation of Foa & Son's Personal Lines Division. Working with many influential families with immense wealth provides a sense of satisfaction. Managing their intricate and emerging risks is a challenge I welcome and enjoy!  My high-energy and ability to multi-task helps make this possible. 
My proven focus on delivering sought-after, quality customer service and achieving the optimal balance between the needs of the company and the client has allowed the Personal Insurance Division to continue down the road to success.
Q: You have many incredible women on your team, one of whom is one of the Senior Account Executives, Deirdre Scarano. What is it about her and her 40 years of experience that has elevated the Personal Lines team at Foa & Son?
LH: Yes, she just celebrated her 40th anniversary. She started at a very young age and (has) progressively moved into a senior account management role for the last 25-plus years. She handles many of our largest legacy accounts that have been clients of FOa & SOn for 30 + years. Her customer focus, integrity and trust have evolved over her years of service, and these attributes have allowed her to become our clients' true "Trusted Advisor" on anything personal insurance-related. They trust her explicitly. They trust her judgment and knowledge. Her account retention is proof of this!
Q: Speaking further about the personal lines team, you have a team within the team, which includes two women, specifically in Account Executive Christine Kalayjian and Senior Account Executive Cheryl Candrea. What makes them important assets to the overall organization?
LH: Christine and Cheryl really play off of each other. They work with many of what we consider middle-market accounts. They, too, have been with Foa & Son for a significant amount of time –  Cheryl, 20 years, and Christine, 15 years. Maintaining relationships with their existing clients and knowing what their needs and quirks are, is certainly helpful. 
Both Christine and Cheryl work with many of the insurance company service centers. They have maintained relationships with those individuals throughout their tenure.  These are the people who help the entire process move forward as quickly and efficiently as possible, allowing us to make changes on behalf of our clients and reviewing accounts to assure we are delivering the best coverage and cost combinations. The whole process just works really well because of the level of expertise and their years of experience.
Q: Your team is quite large and includes many others who bring decades of experience to the table. And there is one person in particular who you felt you should touch upon, and that is Isabel Ascani. In the 10 years she's been at the company, how has she helped it grow and improve within the team over the years?
LH: Isabel is just an extraordinary, crucial member of the team. One of the best hires I've made in my entire career! She works with a handful of the sales team. They are extremely happy with her results.  Her strong track record of analyzing needs, personal consultations, and formulating and customizing solutions makes her an invaluable part of my team.  
That definitely resonates with the client as well as with the sales team, who just hand her their requests, and she runs with it. The trust speaks volumes considering many salespeople insist on being part of the process to assure optimal results.
Q: When you are all in the same room, what excites you most about what the team adds to the company and how you would like to see that progress through the years?
LH: I think, as a group, we all respect each other very much, and we all care very much about what we do. There is no holding back in terms of sharing information, learning from each other, and basically just collaborating on everything and anything, should there be a need. At the same time, we can work independently because we have so much industry knowledge, but if the need arises and there is a hiccup with a particular account, we work together to find a solution. 
Q: What is the culture like at Foa & Son?
LH:. It's a very friendly, considerate, and respectful community. If you need something from another department or if you need to ask a question or need assistance with anything, whoever you ask is helpful and will make sure you get what you need. It's a very collaborative and caring environment.
Q: And how does that collaborative environment translate to the day-to-day workflow of the company?
LH: Effective collaboration creates an amicable, team-friendly structure. It motivates us to perform to the best of our ability. If you need something from anyone, whether it's legal advice from our in-house counsel, or help with the commercial aspect of a personal insurance account, there is someone to assist.  
Q: And that's part of how everything trickles down to aid them in their goals?
LH: Absolutely. That's a huge part of it. So we all work together very similarly in the same way that we do within the department. We work that way within the firm.
Q: Taking into account both the years of experience on your team and combining that with the work culture, how does having both so strongly coalesce and benefit the clients at the end of the day?
LH: Having the knowledge of what's going on in the marketplace and being able to relay that to your client helps us meet our goals and have such high account retention.  Some clients are not driven by price. Some clients are driven by product. And so we know what that is and, by knowing what the products are that are currently the hot ticket items in the marketplace, whether it's cyber coverage or equipment breakdown or anything that's going on, it's really helpful that we pretty much have our pulse on what's going on within the industry. That translates into making sure that our clients have exactly what they need. If they have a loss, there are no gaps in coverage, and they have exactly what they need in order to get a claim paid. After all, that's what we're here for.
Q: Expanding on the benefits, which ones do you feel specifically draw in new clients? 
LH: I think the pleasant, caring personalities of the team, along with their overall professional verbal and written communication skills, go a long way.  Additionally,  I've been told that my honest and upfront demeanor in dealing with clients has contributed to our success. Making a client feel comfortable and heard and acknowledging their needs is key. That goes a long way, and we've won many accounts just by being able to have really thoughtful, careful conversations with clients. Our overall professional verbal and communication skills 
Q: When a client is looking for insurance for their luxury item, whether it's a boat, plane, jewelry, or a piece of art, what makes Foa & Son the leading choice for that need?
LH: The collective experience within the Personal Lines Department is 150+ years.  I will repeat some of the things I already mentioned. Our customer focus, integrity, and trust, listening, informing, priority setting, decision quality, process management, organizing, and negotiating. and managing diverse clients makes us the team you want to work with! 
Q: That's fantastic. Thank you, Loleeta!
LH: Thanks!
*   *   *
If you are looking to insure the luxury items you treasure, Foa & Son, the leading company for covering all of your insurable item needs, has been in business for over 160 years. We are committed to providing you with all of the opportunities to protect your properties. If you are looking to review your coverage or an existing client has referred you to us, you can contact us, and Loleeta and her dedicated team will work to provide you with the options that suit your needs. Thank you.
About the Author
Loleeta Heebrank
Senior Vice President, Director of Personal Lines
Foa & Son